Congresos, Seminarios y Conferencias

Facilitating convergence: information literacy and joint use libraries in Spain.
Marzal, Miguel-Ángel and Parra-Valero, Pablo. In Connection and Convergence: Second International Conference on Joint Use Libraries, Adelaide (South Australia), 3-4 november, 2011.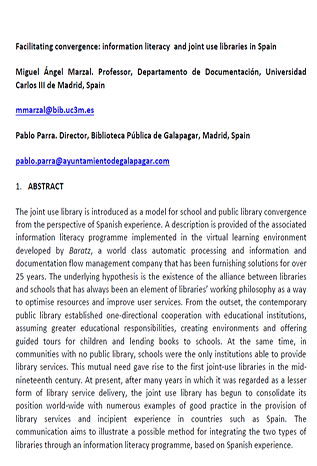 English abstract
The joint use library is introduced as a model for school and public library convergence from the perspective of Spanish experience. A description is provided of the associated information literacy programme implemented in the virtual learning environment developed by Baratz, a world class automatic processing and information and documentation flow management company that has been furnishing solutions for over 25 years. The underlying hypothesis is the existence of the alliance between libraries and schools that has always been an element of libraries' working philosophy as a way to optimise resources and improve user services. From the outset, the contemporary public library established one-directional cooperation with educational institutions, assuming greater educational responsibilities, creating environments and offering guided tours for children and lending books to schools. At the same time, in communities with no public library, schools were the only institutions able to provide library services. This mutual need gave rise to the first joint-use libraries in the mid-nineteenth century. At present, after many years in which it was regarded as a lesser form of library service delivery, the joint use library has begun to consolidate its position world-wide with numerous examples of good practice in the provision of library services and incipient experience in countries such as Spain. The communication aims to illustrate a possible method for integrating the two types of libraries through an information literacy programme, based on Spanish experience.